On an e-commerce site, it's a must to make it easy for buyers to find what they're looking for. Research shows that if people can't find their desired products on a website within 15 seconds, at least 75% of them leave and visit a competing site. That's huge!

Therefore, it's imperative that you provide your visitors with enough tools to find the products of their choice. Product Filters are one among such tools. And to help you choose the most ideal product filter plugin for your store, we've shortlisted 7 most popular plugins out there.
So without taking any more time, let's get started.
7 Best WooCommerce Product Filter Plugins
1. WOOF Products Filter Plugin (80,000+ downloads)
Price: $34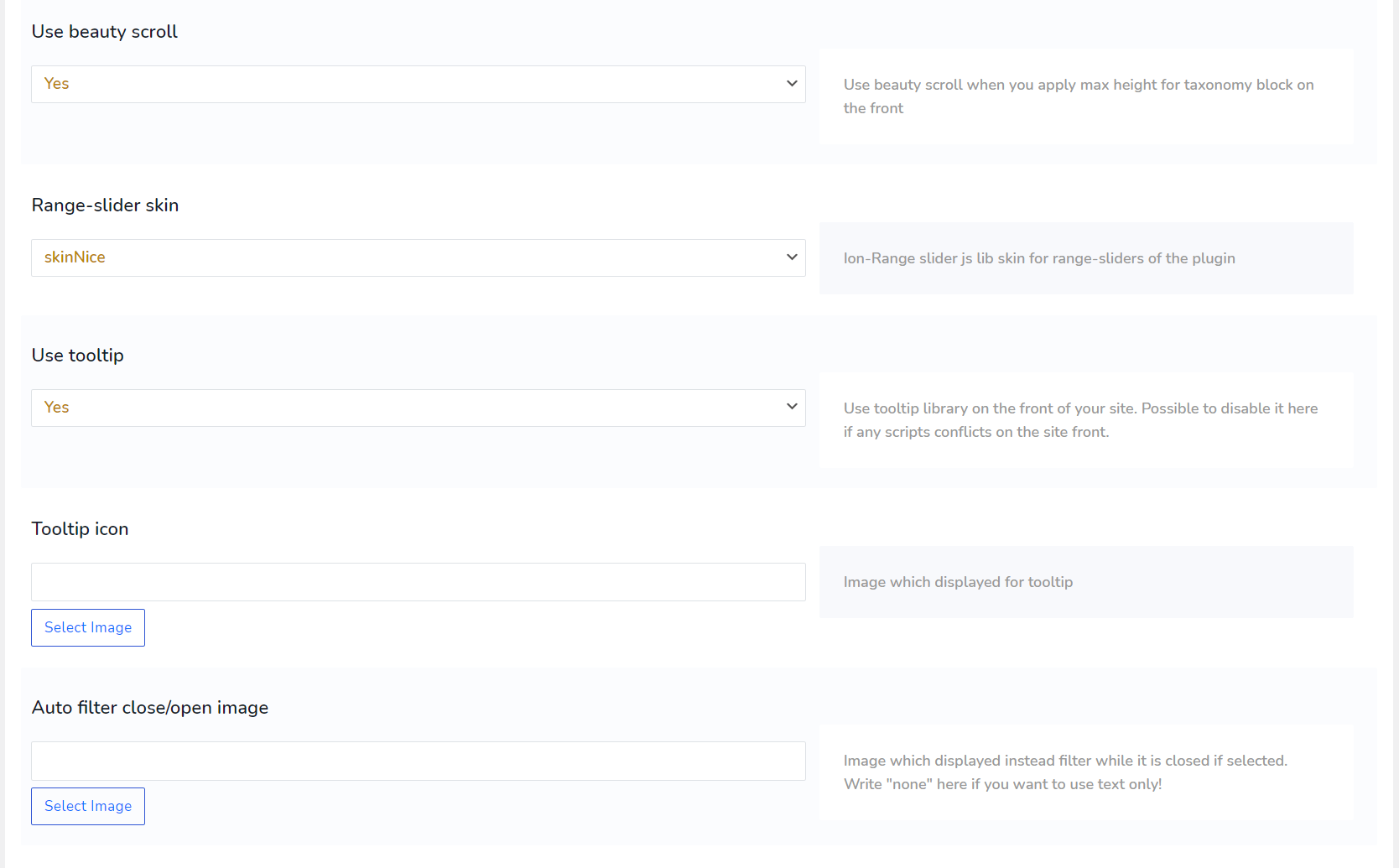 With a rating of 4.5 stars, WOOF is one of the best-rated products filter plugin that you can find in the market. It has been able to maintain this rating despite more than 80k downloads, which is enough to explain how good it is. It comes with a number of features, but the most
promising ones among them are given below:
Can be integrated with the help of shortcodes; so you can put it as a widget on your search pages
AJAX-based search functionality, which gives you the option of enabling search functionality without page refresh
Allows creation of a search wizard that can guide your visitors to search for their products by supplying all the relevant criteria in one go
Statistics, which you can use to analyze search data
Product messenger, which notifies your logged-in users about new products matching their search criteria
Infinite scrolling
Extensions can be created for the plugin by developers.
Here's what some of the users have said about this plugin:
"Excellent product and outstanding support."


Devaghost ( via WordPress.org)
"Filters are very easy to create and the plugin is smart because it convert data in json files which is a fast technology. I recommend it to anyone using Woocommerce!"


flow92 ( via WordPress.org)
2. Advanced AJAX Product Filters (20,000+ downloads)
Price: $35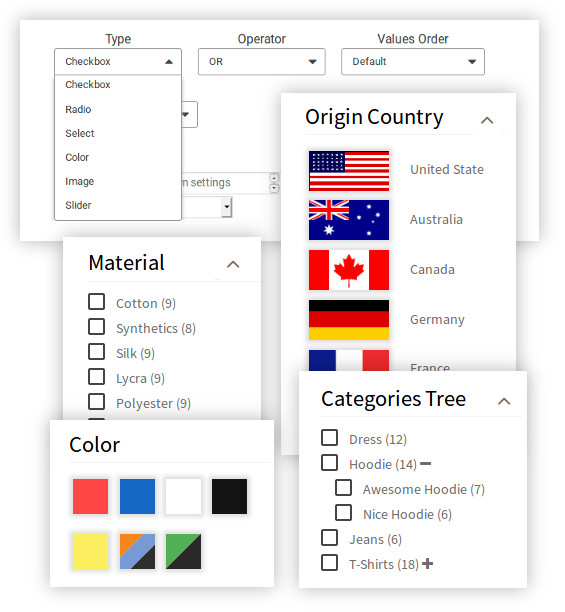 As its name suggests, it's a product filter plugin based on AJAX. This means that by default it doesn't refresh your entire search pages for presenting the fresh results to your visitors. But of course, there's much more to it than this AJAX functionality alone. The chief functions among them are:
Allows you to set the pages where filters must be shown
Ability to hide filters on smaller screens (i.e. mobiles, tablets, etc.)
Ability to filter results by color, image, price range, product category and a number of other options
Allows customization of Admin panel with help of CSS
Can be displayed easily with shortcode
Drag and drop functionality to set up the filter
Cache functionality for widgets: make your filter widget load and search faster.
Here's what users have said about it:
"One of the best product filters around. It's so easy to use and easy to implement."


Faydesigns ( via WordPress.org)
"I recommend it"


Petebowling12 (via WordPress.org)
3. Themify – WooCommerce Product Filter (10,000+ downloads)
Price: Free
Themify is another filter plugin with drag and drop functionality for easy setup, just like Advanced AJAX filter plugin mentioned above. However, it also has some unique qualities that separate it from the crowd, which are as follows:

Create filter combinations by specifying multiple filters for your search
Live search results – display results on the same page without refresh
Vertical and horizontal search page layouts
Drag and drop filter form builder for the search pages
Thorough documentation which is easily accessible online to help you use the plugin
Shortcode-based easy integration – just paste the shortcode in any text editor of your site, whether it's a sidebar, a post or a page.
Video tutorial available on the product page to ensure that you don't get stuck during the setup
Here's what users think about this plugin:
"One of the best title filter products. There is only one problem that I found and that is the filter does not show the tags/categories vertically. I love it!"


Florin Kis ( via WordPress.org)
"I had some issues due to my theme and I got great help all the way from Themify. Definitely a plugin I would recommend to others."


Ipreetzman ( via WordPress.org)
4. YITH WooCommerce Product Filter (100,000+ downloads)
Price: $77.79
YITH filter plugin has been developed by YI Themes, and it offers both simple as well as advanced search options to your customers. Like WOOF product filter YITH has also been able to maintain a rating of 4 stars, and that is because of its robust support and features. Key highlights of its features are given below:
Product ratings are shown on the search page itself so your customers can choose their preferred product easily
Four different layouts to embed as a widget – list, dropdown, color and label. Two additional layouts in the premium version, namely BiColor and Tags.
Customizable Reset button
Special filter for 'products available on sale', which you can use to run some Sale campaigns
Loading icon can be customized with an image of your choice
Compatible with WooCommerce Multi Vendor plugin, WooCommerce Brands Addon, YITH Product Size charts and many other plugins
Multilingual – available in English and Italiano.
Those who used it are already floored on its capabilities. Have a look on some of the reviews:
"Works exactly as described, helpful support even without purchasing the Pro option. Recommended!"


Amwarszawa (via WordPress.org)
"excellent plugin, very useful, easy to use. great support!!!"


meraveldorot (via WordPress.org)
5. Ultimate WooCommerce Filters (3,000+ downloads)
Price: $30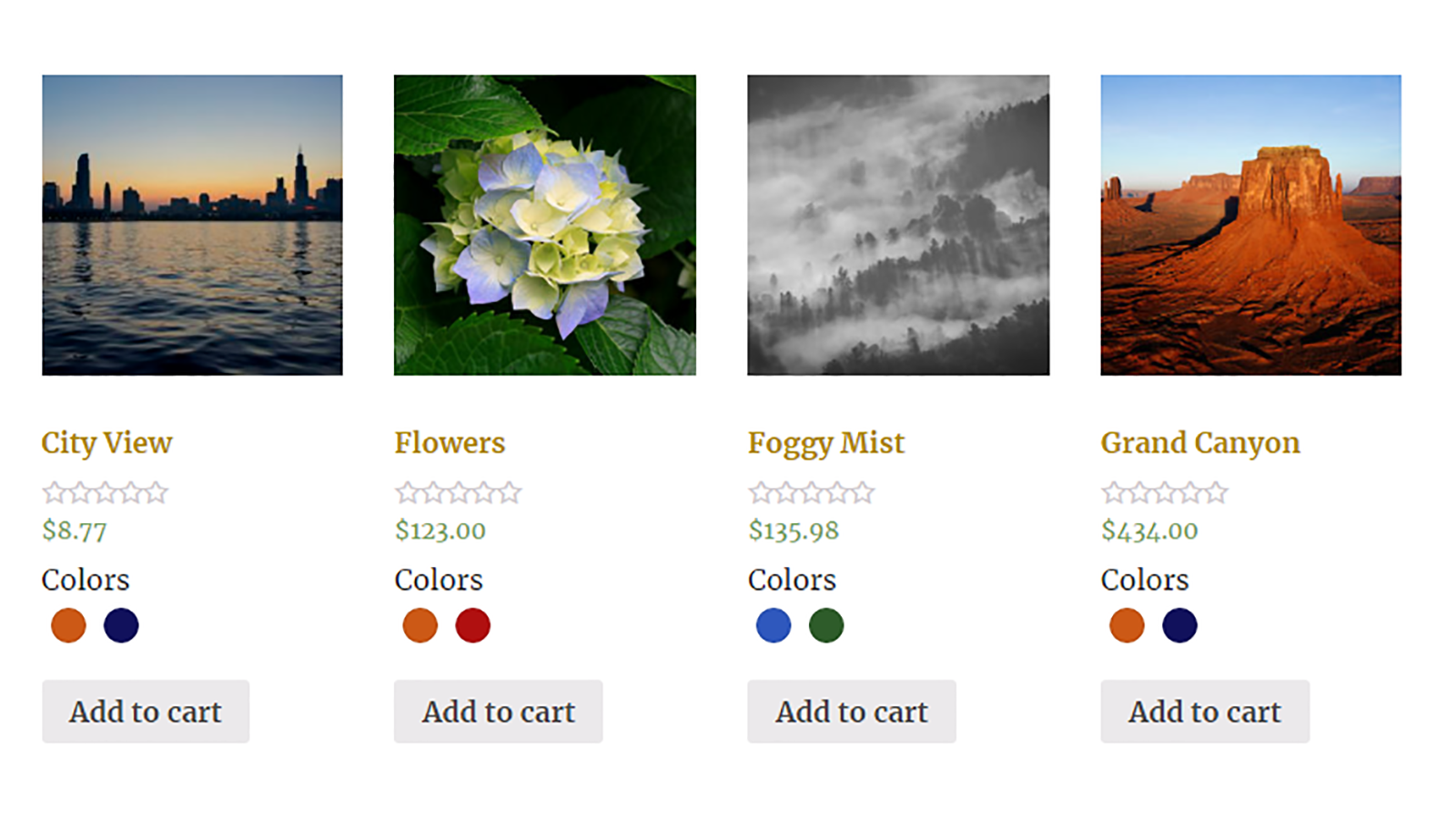 Though the number of downloads is low for this plugin, you should not make any judgments based on that. This is a solid filter plugin for any e-commerce site developed with WordPress because it comes with all popular filtering features that you can find in other plugins. It has also got a simple and elegant layout, which is great for any e-commerce site. Its key features are given below:
Filter products based on size, colors, categories, tags and many other parameters
Gutenberg block included to display the filters in new versions of WordPress
Products can be filtered based on your own custom attributes as well, which you set up in WooCommerce
Automatically configured to appear only on the Shop pages of your site, and not on every other page
Auto-complete feature; so your customers don't need to enter the full names of products they want to search. It can also help them find relevant products more quickly.
Premium version allows showing product attributes on the Shop page itself; so your customers don't need to visit the product pages to find out the key features of any product
Also in premium version-specific layout options for every type of WooCommerce filter.
Here is how users have described their experience of this plugin:
"Thank you for making a plugin that works as it suppose to!"


daelanfynn (via WordPress.org)
"After using Support Errors were fixed…great plugin"


averinunies (via WordPress.org)
6. Product Filters for WooCommerce
Price: $79
This WooCommerce filter plugin is special in itself because it has been developed by Automattic – the parent company of WordPress and WooCommerce. Now, since this is a product from the same company, its obvious that its integration and features are at a completely different level. Given below are the key highlights of its long feature list:
Quick product filtering with help of AJAX
Two widgets – a normal "Product Filters" widget and a "Notes for Product Filters" widget
Filters based on all popular attributes, including color, size, categories, tags, price range and stock status
Adaptive filters, product thumbnails and product counts
Long list of elements that can be added to make a filter of your choice
Clean and professionally organized layout
Detailed video tutorial available on YouTube and product page to educate about the functionality of the plugin
A strange thing about this plugin, however, is that WooCommerce has not yet listed any user reviews related to it on its website. They say that they're accepting reviews for this plugin, and will list them once they receive a few more.
7. WooCommerce Grid : Display Product + AJAX Filter
Price: $27
Developed by ProWord, the WooCommerce Grid plugin in our list is a highly customizable filter plugin that every entrepreneur building an e-commerce website should consider at least once. It allows you to customize almost everything. Search form, results page, layout of the widget and every other aspect of the plugin can be customized to suit your needs. Here are the key features of this plugin:
Fully responsive, which means better compatibility with mobile devices
5 different positions to display the filters in a position of your choice
4 different types of pagination to help your customers navigate between the search pages – horizontal page numbers, vertical page numbers, show more button and infinite scrolling
4 different grid layouts
Items can also be displayed in a carousel
Customize your 'Loading' icon
Show multiple product images on the results page itself
Here's how users have reviewed this plugin:
"This plugin is absolutely fantastic. And the support too. Many thanks."


Zurga (via WordPress.org)
"Prompt and good quality support. They fixed my issue within hours."


7107digital (via WordPress.org)
Conclusion
These 7 product filter plugins can help you a lot in retaining customers because each of them is packed with all the required features. If you set up any of these plugins correctly, your customers can easily find the products of their choice on your site.

Recommended Reading: Optimize your WooCommerce store by making it more interactive. Check out this article to see how.

So choose the option of your choice from this list and install it today to convert your e-commerce site into a full-fledged online store. Also, don't forget to share your views about these plugins in the comments.
Disclosure: Some of the links in this blog post might be affiliate links. When you purchase through a link on our website, we receive a small commission, at no added cost to you, which helps us run Epitrove and keep producing great content. This does not influence our recommendations; we only recommend products we work with or love. Thank you for your support!